'ACTIVIST' IN CHARGE: Biden nominee to lead ATF wants to ban America's most popular rifle and more, say House Republicans
House Republicans urge Senate to oppose Biden ATF director nominee
David Chipman spent 25 years as an agent at ATF
EXCLUSIVE: Dozens of House Republicans are urging the Senate to oppose President Biden's nomination of David Chipman as director of the Bureau of Alcohol, Tobacco and Firearms (ATF), calling him an "enemy of the 2nd Amendment" and saying his confirmation would "jeopardize" the constitutional rights of gun owners.
Biden last month nominated Chipman, a former federal agent and adviser at the gun control group Giffords, to be director of ATF.
Fox News obtained a letter House Republican Study Committee Chair Jim Banks, R-Ind., and 68 other House GOP members penned to Senate Majority Leader Chuck Schumer, D-N.Y., and Senate Minority Leader Mitch McConnell. R-Ky., on Monday.
BIDEN ATF PICK ALARMS GUN RIGHTS GROUPS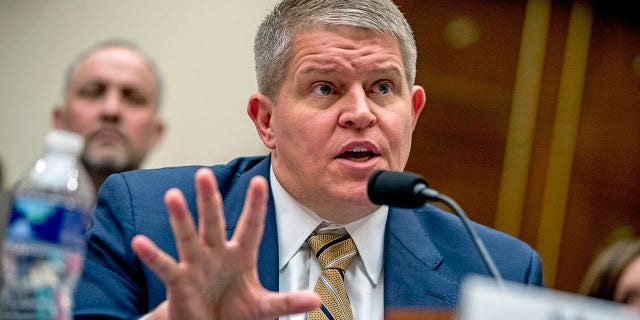 In the letter, the GOP members described Chipman as a "longtime gun control activist and lobbyist."
"His beliefs and hostile attitude toward the rights of gun owners are well known," the wrote. "Thus, we respectfully ask that you oppose his confirmation."
Republicans cited Chipman's record, saying that in October 2018 he argued in favor of subjecting all AR-15s and potentially all semi-automatic rifles to regulation under the National Firearms Act.
"As a former agent of the ATF, Chipman knows all too well that such action would effectively ban the most popular rifle in America as well as most other items regulated under the National Firearms Act," they wrote.
Republicans argued that Chipman's confirmation would "threaten the landscape of firearm ownership for generations of Americans to come."
BIDEN ATF NOMINEE MADE QUESTIONABLE STATEMENTS ABOUT SUPPRESSORS, AUTOMATIC WEAPONS
"If confirmed, David Chipman would use every tool at his disposal to attack American gun owners and we respectfully ask you to oppose any and all action that would advance his confirmation in the Senate," they wrote.
Gun control advocates, though, have praised Chipman's nomination.
Israel bombed the home of Hamas's chief in Gaza early on Sunday and the Islamist group fired rocket barrages at Tel Aviv as hostilities stretched …
read more