Out of the Mouths of Babes: Fifth graders tell the Bidens virtual learning allowed them to eat and sneak in a nap
'If you don't know the question, you can just pretend like your mic doesn't work'
Students at a Virginia fifth grade classroom told President Biden and First Lady Jill Biden Monday that virtual learning gave them the chance to eat, take naps, and even fake technical glitches in order to avoid answering questions.
The school, Yorktown Elementary School, is now open four days per week, with students attending Monday, Tuesday, Thursday and Friday. Students don't come to class Wednesday so the school can be cleaned.
One said, "if we were really tired, we could like take a little nap." Another said, "sometimes when Ms. B was like paying attention to something else you could eat and it was fun." Yet another student added that, "If you don't know the question, you can just pretend like your mic doesn't work."
The students showed the Bidens their science projects before President Biden later asked the students how they liked learning virtually.
"It was OK," another said, as other students weighed in, some seeming to groan.
"I didn't like virtual," one student said in response to a question from Jill Biden. "It was terrible."
"I liked it," another student said.
TOP TEACHERS UNION LOBBIED CDC ON SCHOOL REOPENINGS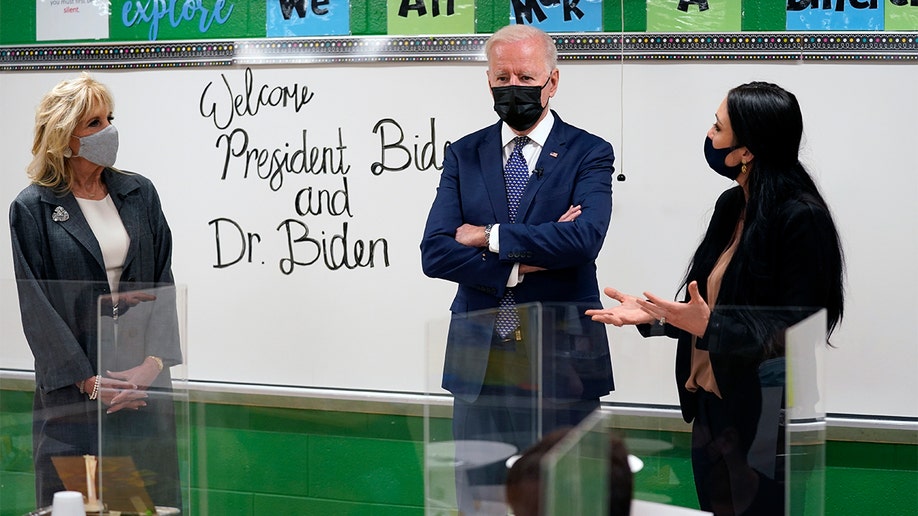 "It was difficult with all the glitches, but it ended up being pretty good. I definitely prefer it this way," said yet another.
The teacher, who goes by Ms. B lauded the benefits of in-person learning to the president and first lady.
"Our students actually have a lot of opportunities to work hands-on with materials like this all the time. My class knows I love science so I try to incorporate as much hands-on activity as possible," she said.
"With York County's return-to-school plan, our students, yes, they're distanced, they have their masks on, they have their shields for their extra safety measures and their desks are wiped down," Ms. B added.
Teachers are an extraordinary force for good in our nation — I'm lucky enough to be married to one and have seen firsthand how hard they work for their students. This year teachers have gone above and beyond to help children learn through the pandemic. So please, thank a teacher. pic.twitter.com/NbzPJ1S7H1

— President Biden (@POTUS) May 3, 2021
PARENTS OF VIRTUAL LEARNERS SAY THEIR KIDS HAVE WORSE MENTAL HEALTH, LESS TIME OUTSIDE, CDC SURVEY FINDS
Students, relegated in many states to virtual learning for much of the pandemic, fell behind academically in the past year.
The White House said Wednesday President Joe Biden supported social media companies banning more content considered "untrustworthy" on their platforms.
read more