Trump in 2024? He Says Only That 'a Republican' Will Win
Former President Donald Trump vowed to help Republicans win seats in Congress in 2022 elections but lashed out at two top party figures, Senate minority leader Mitch McConnell and former Vice President Mike Pence, at a donor retreat on Saturday.
"The key to this triumphant future will be to build on the gains our amazing movement has made over the past four years," Trump told hundreds of leading Republican donors, according to the prepared remarks. "Under our leadership, we welcomed millions upon millions of new voters into the Republican coalition. We transformed the Republican Party into a party that truly fights for all Americans."
At a dinner at his Mar-a-Lago Club for Republican National Committee donors in Palm Beach, Florida, McConnell drew Trump's ire. Parting from the prepared text of his speech, Trump called the senator a "son of a b—h," according to several accounts.
Before leaving office, Trump had scolded Pence for not intervening to stop the congressional certification of the vote tally, an authority the vice president did not have.
Departing again from his prepared text, Trump said he had spoken to Pence recently and told him he was still disappointed in him, the attendee said.
Representatives for McConnell and Pence did not immediately respond to requests for comment.
Earlier, Trump's senior adviser Jason Miller told Newsmax TV that the emphasis would be on winning back the House and Senate in 2022.
"Obviously I'm biased to who I hope that will be, if President Trump does decide to run again," Miller, a Newsmax TV contributor, told "The Count." "But I also think you're going to see (him) go after Joe Biden again and very strong terms with regard to the border, the woke corporate cancel culture."
Meanwhile, the fact everyone is going to Mar-a-Lago and Palm Beach, Florida, shows it is the "center of the Republican universe right now" and Trump is the "biggest name in politics."
In prepared remarks seen by Reuters and reported by other major media, Trump said he wanted to talk "about the future of the Republican Party – and what we must do to set our candidates on a course to victory."
"I stand before you this evening filled with confidence that in 2022, we are going to take back the House (of Representatives) and we are going to reclaim the Senate. And then in 2024, a Republican candidate is going to win the White House," he said.
Trump has spent the 2-1/2 months since his chaotic exit from the White House considering requests from 2022 candidates for his endorsement and has been giving them his blessing based on whether they support him and his agenda or not.
He has said any talk of his own plans – the Constitution gives him the right to seek another four-year term – should wait until after the November 2022 elections.
A variety of other Republicans are considering their own potential runs for the party's presidential nomination in 2024, such as Trump's former secretary of state, Mike Pompeo, and Florida Governor Ron DeSantis.
Trump has made inroads among traditional Democratic voters such as Hispanics and African Americans.
Trump, who also sprinkled his remarks with attacks on Biden, said the key to victories in 2022 is to build on those gains, saying "the Republican Party will succeed and grow in the future by embracing its destiny as the champion of working-class Americans."
Trump's active role in Republican politics despite losing the 2020 election is unlike other former presidents, who have tended to retreat from the limelight after leaving the White House.
Miller cited the numerous endorsements Trump made for upcoming races this past week, calling that backing the "difference-maker" in upcoming primaries, noting that when other presidents like Barack Obama, Bill Clinton, or George W. Bush left the White House, their "political power was done," but not Trump's.
"He's stronger than ever," said Miller, adding in 2024, Trump would be "far away the favorite" for the Republican side of the field.
Trump has accumulated a total of roughly $85 million so far, a small fortune that rivals the RNC's bank account. He has teased the prospect of another presidential run in 2024, but has also positioned himself to play the role of kingmaker for Republicans who may run if he does not.
The weekend gathering featured Florida Gov. Ron DeSantis and Arkansas Sen. Tom Cotton, among other early 2024 prospects.
In his remarks Friday night, Cotton leaned into the GOP's culture wars, attacking the Democrats' positions on transgender youth, voter ID laws and Major League Baseball's decision to move its All-Star Game to protest Republican voting laws.
DeSantis, who spoke before Trump on Saturday night, also seized on corporations and business leaders who have begun joining the Democrats' fight against GOP-backed voting legislation moving through state legislatures across the country, including Florida. Critics and voting experts suggest the new laws would make it more difficult for Black Americans and Latinos to cast ballots.
DeSantis specifically warned Saturday that there would be "consequences" for business leaders who pressure lawmakers in Florida as they did in Georgia. But neither DeSantis nor Cotton attacked any fellow Republicans.
Material from Reuters was used in this story.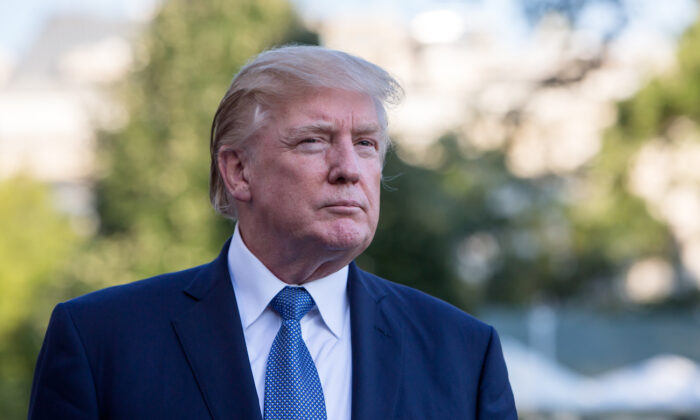 Trump Predicts GOP Will Retake Congress in 2022, White House in 2024
Former President Donald Trump reacted to Facebook's move to uphold the suspension of his account, arguing that Big Tech firms are working to censor Americans.
read more