Chinese Vaccine 50.4 Percent Effective, Brazil Results Show
A leading Chinese vaccine has been found to be 50.4 percent effective, according to the results of a late-stage trial in Brazil, serving a blow to the Chinese regime as it seeks to leverage the vaccine to bolster its global image.
The results from Brazil's state-funded Butantan Institute on Tuesday were just enough to pass the 50 percent threshold set by the World Health Organization for regulatory approval. It was far lower than initial claims announced last week that touted a 78 percent efficacy rate.
CoronaVac, a vaccine developed by Beijing-based drugmaker Sinovac Biotech, is one of Brazil's two immunization candidates. The government last week made a deal to purchase up to 100 million doses of the Chinese vaccine.
The latest revelation has fueled skepticism about Chinese vaccines. Brazilian President Jair Bolsonaro, who in October vowed that "Brazilian people will not be anyone's guinea pig," said on Wednesday that he was right to question the credibility of vaccines from China.
"This 50% is good, is it? All the (criticism) I got for my comments, and now they are seeing the truth. Four months of being lambasted because of the vaccine," Bolsonaro, told supporters outside his residence.
Bolsonaro noted he had no say in vaccine approval as the health regulator Anvisa would make the final call.
Last week, researchers from Butantan Institute celebrated a 78 percent efficacy rate of the CoronaVac vaccine against "mild-to-severe" virus cases, and a 100 percent rate for very severe cases. The figure fell lower after accounting for a group of "very mild" cases among over 12,000 volunteers, who did not require clinical assistance, the institute said on Tuesday.
Chinese state media made light of the trial results in the news coverage. A Wednesday headline from the state-affiliated tabloid Global Times emphasized that the Sinovac vaccine was "100% effective in preventing severe cases, could reduce hospitalizations by 80%," citing a Chinese doctor who claimed the vaccine is "good enough." The Party-run Beijing Daily attached importance to the "safety" and "effectiveness" of the vaccine without mentioning the numbers.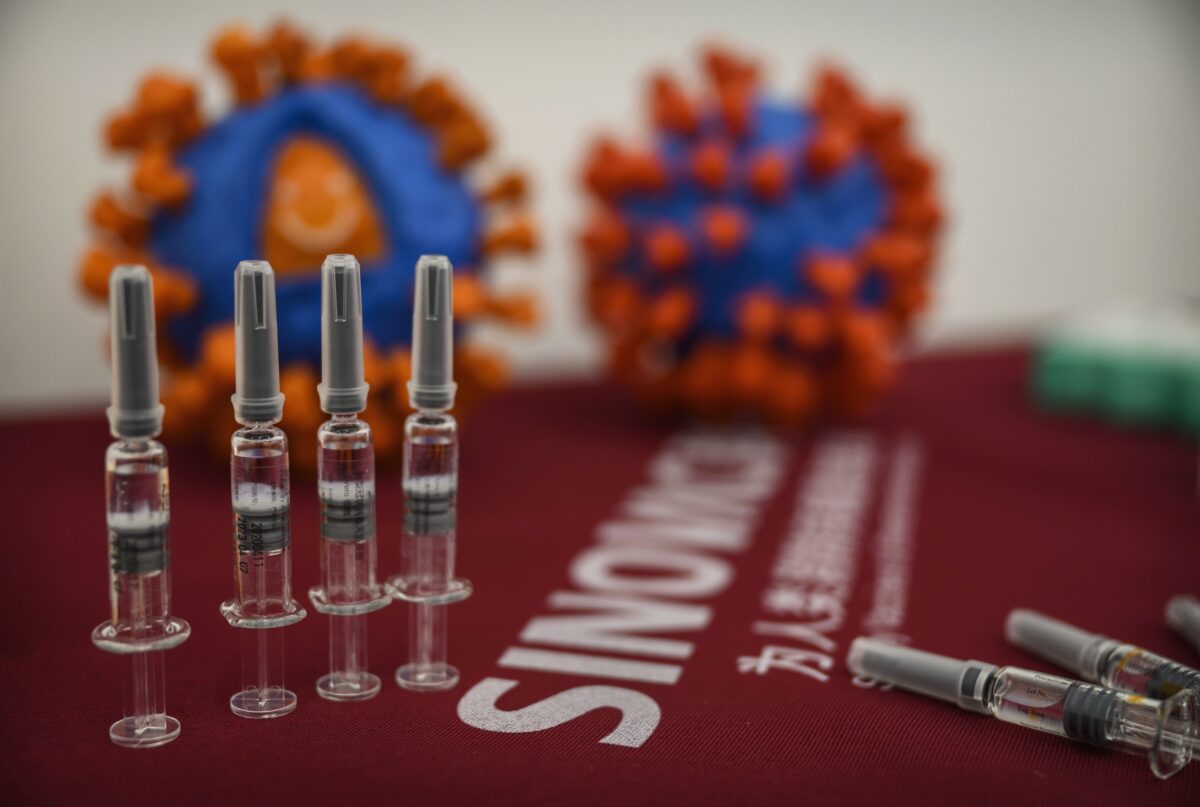 In the United States, vaccines developed by Pfizer and Moderna carry a 95 percent effectiveness and have received FDA authorization in December before beginning to administer shots to the general public. In China, however, authorities have rushed to vaccinate people since July under an emergency use policy that allowed vaccines that hadn't completed clinical trials to be deployed.
Yin Weidong, chairman of Sinovac Biotech, said in a Wednesday news conference that the company plans to double its production capacity to 1 billion doses by February. Tuesday's efficacy results have so far been the lowest for the vaccine. The company has also received orders from Turkey and Indonesia for CoronaVac, with interim data showing an efficacy rate of 91.25 percent and 65.3 percent respectively.
Asked about concerns around the vaccine, Yin said the stage III trials from Brazil and elsewhere "have been sufficient to prove the safety and effectiveness of the CoronaVac vaccine around the world."
In a move to assure the public, Hong Kong, which has already placed orders for Sinovac vaccines, said on Wednesday it would have a panel of experts review any vaccine based on clinical data before its rollout.
The Butantan Institute has faced criticism for transparency over CoronaVac trial data. It was initially scheduled to release the vaccine testing results in mid-December, but delayed the action multiple times, citing a need for Sinovac to collect additional data.