De Blasio announces proposal to cut NYPD budget by $1B
Mayor Bill De Blasio announced plans to cut $1B from the NYPD's nearly $6B budget
New York City Mayor Bill de Blasio said he has proposed a plan for the city to cut $1 billion from the NYPD's nearly $6 billion budget.
The Democratic mayor revealed details of his proposal during a Monday morning press conference at City Hall. His announcement falls in line with city council leaders' calls for the billion-dollar cut to the police department's budget.
"My office presented to City Council a plan that would achieve the billion in savings for the NYPD and shift resources to young people, to communities in a way that would help address a lot of the underlying issues that we know are the cause of so many problems in our society," he said.
De Blasio prefaced his announcement by detailing what he described as "the toughest budget that we've had to do as an administration here at City Hall."
"We're in a whole different situation in fact than New York City has ever faced in our history – a health care crisis, an economic crisis, a disparity crisis, a budget crisis all wrapped into one and on a massive, massive scale," he said. "We've gotta focus on those basics health, safety, food, shelter."
At the same time, he said, "we have an unprecedented opportunity to change some things."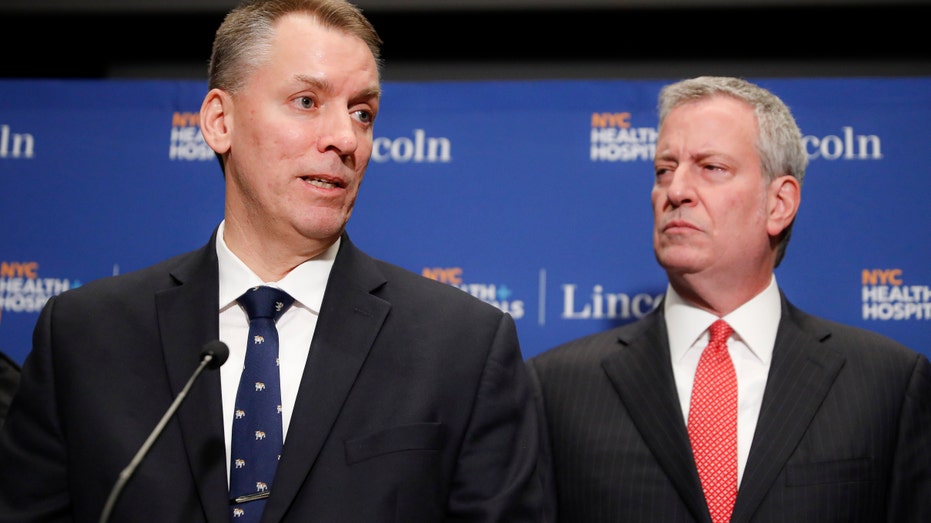 PROTESTERS DEMAND NYC MAYOR DE BLASIO CUT NYPD BUDGET BY $1B
New York City's budget is $8 billion smaller than what had been proposed in February, de Blasio said. Tuesday is the city's budget deadline.
"The NYPD is being treated clearly in a specific manner. A number of agencies are being cut quite a bit, but we're dealing with a specific reality with the NYPD unquestionably," he said, when asked how cuts to the police department compared to those of other agencies.
The NYPD boasts the largest police force in the country with nearly 36,000 uniformed members and 19,000 civilian members. De Blasio emphasized that plan is still under negotiation and officials had not reached a final agreement.
While de Blasio did not outline the specific details of the plan, other city officials have called for the slashing of overtime, trimming the number of officers through attrition, and investing some of the savings in social services and communities impacted by police misconduct.
Retailers, airlines, restaurants. But also sports leagues, a cannabis company and an archdiocese plagued by sex-abuse allegations.
read more